Enjoy eating!
Tasting italian food recipes and tuscan wine at Podere Pellicciano – Agrisole
We will start the visit in our vineyard and winery Podere Pellicciano – Agrisole to discover our tuscan wine;  then we will continue in the vegetable garden to pick up together a seasonal fruit basket, veggies available depending on the four seasons and to decide, with the products available, the healthy food recipes to do together like tortellini, spaghetti, pappa al pomodoro soup, truffle, beef, pomodoro tomato with wheat bread and extra virgin olive oil and many other italian food recipes. At last, in the kitchen, we will prepare together tasty food or, if you prefer, you may follow our chef while you enjoy a glass of Podere Pellicciano – Agrisole tuscan wines.
Each culinary course  is unique because it's always a pleasant occasion to tell you about us, about our tradition, about the passion for culinary artsand about emotions that just Tuscany can give you with it's italian food recipes and tuscan wine.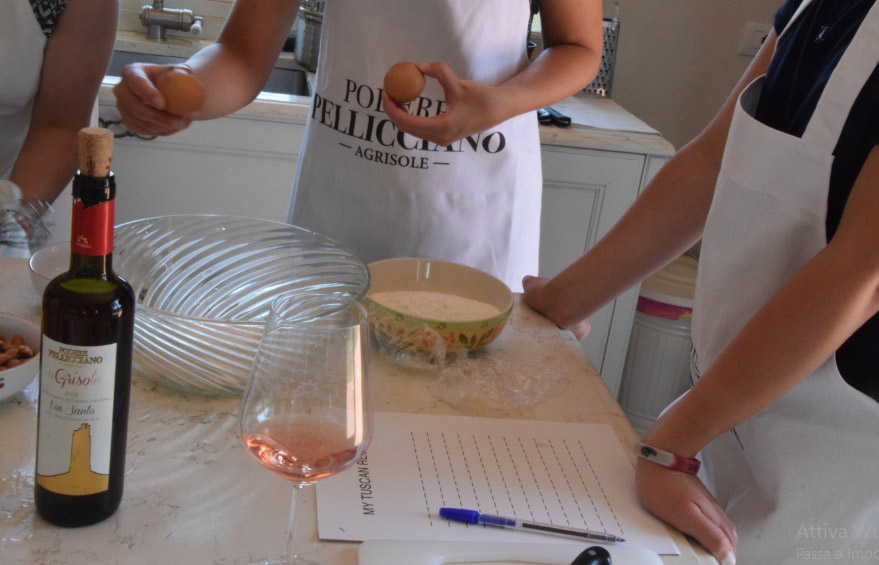 We have thought for you the following offer:
10:00 a.m. Meeting planner and briefing;
10:10 a.m. Visit in the winery  and we do the wine tasting. We choose the wine according to the cooking recipes: a wonderful food and wine pairing is a must;
11:00 a.m. Visit to the vegetable garden, picking fruit basket and veggies;
12:00 a.m. Cooking lessons with wine tasting.
On request we can also support you with other services:
baby parking service
We speak Italian and English and with a little advance we can offer translation services for French, German, Portuguese and Russian.
Preparing vegan recipes and vegetarian meals
We remind you that the vineyards and the winery are also accessible for people with mobility impaired and to the elderly.
The price is 140.00 € per person.
Reservation is require
To make your experience even more unique and comfortable, make booking online and fill out the form below.
Book now and come to enjoy eating with our Cooking lessons!